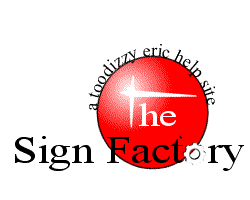 These are what YOU requested! My E-Mail addy is at at bottom to request your sign. I do not make signs that should be done professionally, ie; no business or political signs. I Will make signs for charities. So far over 90 signs to choose from.

I design all my signs in black text, to save color ink costs, read this to learn how to EASILY change the c o l o r s

If you get a tripod page saying, you cannot download this file, hit your "Go To" hit "Show Last" hit "Go To Page" or type the addy in by hand, always!, works for me.....

new 11-19-2001 the last 37 signs were made with psp 7.04 and I do see they are a little bit fuzzy compared to the ones made at magick studio.


I remade these 190? signs in several sessions at magick studio (found a new trick to speed things up) , will be adding more, if you request it. Thanks as always to Dave and Willie for doing the translating. This time around I learned my lesson and labeled each signs image name in English with an S at the end to denote that it is the Spanish version.
Running behind on some translations, but have no feedback if anyone uses them.....
But you wanted the sign in red, or green or purple? It is very easy to do, the instructions are
here
.
The goal was to make each sign with the letters as large as possible to be as visible as possible.
See
http://www.geocities.com/nopcprinting
for my two how-to make signs tutorials, another page of my pre-made signs that have borders or frames, and a list of the other pre-made sign sites and the interactive sign maker sites that are available.
My most sincere thanks to Dave of D & W fame for translating and correcting my typing errors!!! His assistance from the beginning has made this a truely unique site, one of the only "real" bilingual webtv/msntv sites around! I do not consider those "push button" translators to be the equal of one who speaks the language:)!! Check out Dave and Willies sites!
The Daily Supplies
http://www.wtv-zone.com/dailysupplies/index.html

The FKey Links of printable sites
http://www.wtv-zone.com/dailysupplies/fkeys/fkeyprint1.html

The Calendar Site
http://www.wtv-zone.com/dailysupplies/calendars/index.html



E-Mail comments here







For Pc users only:




Free JavaScripts provided
by The JavaScript Source




For webtv users:

List of links

in trial mode:)